If there's one thing that stands the test of time in interior decor, it's the charm and elegance of wood kitchen cabinets. Whether you're aiming for a rustic, modern, farmhouse, or eclectic aesthetic, wood cabinets are well suited for your home's interior design and hold up to everyday use.
In this Ultimate Guide to Wood Cabinets we will go over:
the variety of species available, such as oak, alder, and cherry.
dream kitchen design ideas for each species.
how different cabinet styles suit your home design.
answer common questions like "why choose solid wood cabinets?"
how to take care of your quality cabinets.
Whether you're embarking on a full-scale kitchen remodel or building a new home, our cabinet design ideas will help you find your personal style and make informed choices for your home.
The Ultimate Collection of Wood Kitchen Cabinet Design Ideas
Real wood cabinets are available in a variety of species, each with their unique appearance and benefits. Decor offers the following wood cabinets:
Cherry Kitchen Cabinets
Alder Kitchen Cabinets
Maple Kitchen Cabinets
Oak Kitchen Cabinets
White Rift Oak Kitchen Cabinets
Walnut Kitchen Cabinets
Exotic Wood Veneer Kitchen Cabinets
Let's dive into some design ideas!
Cherry Kitchen Cabinet Design Ideas
Cherry wood tends to have mostly red undertones. However, the colours can range from pale yellow to deep brown. It also accepts stains beautifully because of the texture, which is a smooth satin surface. One of the biggest reasons for being so popular is that it matures over time and changes in colour as it is exposed to oxygen.
Cherry cabinets have often been used in rustic, traditional, country, cottage, and contemporary kitchen designs. Here are some design ideas for cherry kitchens!
Cherry cabinets with a contemporary twist!
This contemporary kitchen uses cherry in a different way, while still highlighting the warm wood tones.
Balance cherry cabinets with lighter elements.
Adding lighter colour counters, backsplash, fixtures, and wall colour help to keep the kitchen from feeling too dark.
Loving cherry? Read more cherry kitchen design ideas here.
Alder Kitchen Cabinet Design Ideas
Alder door styles comes in a diverse range of appearances, from clear light alder woodgrain to a knotty look with strong grain patterns. Both clear and knotty varieties come from the same tree, but are selected based on characteristics desired. It can be stained or painted to either highlight impurities or cover them up.
Here are some design ideas for both knotty and clear alder kitchens!
Budget friendly painted alder cabinets.
Clear alder provides a smooth surface for painted cabinets at a lesser cost than other woods.
Embrace rustic charm with knotty alder cabinets!
If you love nature, knotty alder is a great way to get that cabin feel, wherever you live.
Read more about the differences between clear and knotty alder here!
Maple Kitchen Cabinet Design Ideas
Natural maple cabinets are no longer as popular as they used to be, but there's a good reason why maple is still a highly preferred choice for kitchen cabinets. Maple is one of the strongest and most durable natural wood options available. It's an even slightly stronger hardwood than oak.
Here are some ideas on how to keep maple cabinets from looking outdated:
Choosing modern stain colours.
The right stain colour can lean more modern than traditional.
Mix modern materials with maple.
Embrace maple wood grain alongside mixed materials and finishes for a contemporary look.
For more maple kitchen design inspiration click here!
Oak Kitchen Cabinet Design Ideas
Many people immediately think of outdated honey coloured kitchens when they hear oak cabinets. But it doesn't have to be that way. Oak cabinets have much more to offer than that! You can create a traditional kitchen with oak cabinets, but you can also create modern and transitional spaces – with the right design touch.
Here are some Oak kitchen design ideas that won't scream "honey oak".
Try flat panel oak cabinets for a contemporary kitchen.
A whole new take on oak cabinets – flat panel cabinet fronts.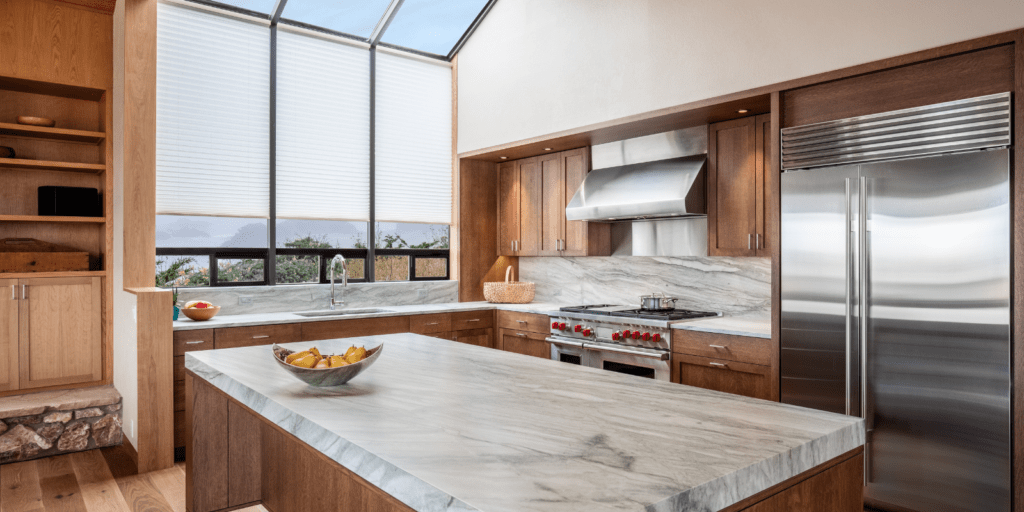 Opt for neutral or cool stain colours and neutral accents.
Love oak but want something more 2023 than 2003? Neutral stain colours and marble countertops fit the bill.
Read more ideas on how to modernize oak cabinets here!
White Rift Oak Cabinet Design Ideas
This unique cut of oak wood has a distinct, even grain pattern and contemporary appearance. While you can make plain sawn (regular) oak look modern, the rift cut oak grain pattern is more characteristically contemporary.
If you love to be ahead of the trend, you need these design ideas.
Play with grain direction!
Use vertical or horizontal lines with this even straight grained wood.
See how rift sawn and plain sawn oak compare here!
Walnut Kitchen Cabinet Design Ideas
With dark warm tones and distinctive grain patterns, walnut cabinets add a touch of natural beauty and sophistication to any space. Walnut can adapt to various design styles, whether you're aiming for a minimalist, contemporary, industrial, or transitional look.
Pair walnut with white for a balanced kitchen.
This walnut island is a beautiful accent to an otherwise all white kitchen.
Embrace richness with upper and lower walnut cabinets!
For wood cabinet lovers, a full walnut kitchen with modern backsplash is a perfect pair.
If walnut is catching your eye, read 6 more walnut kitchen design ideas here!
Wood Veneer Kitchen Cabinet Design Ideas
The purpose of a veneer is that it's more affordable than solid timber as less solid wood is used, while a base composite material gives the veneer overall stability. Veneer cabinets offer a harmonious blend of simplicity, warmth, and sophistication. They are a great option for modern or retro inspired spaces, as wood veneers were a staple in mid-century modern design.
Wood veneer cabinets with colorful accents.
We love the teal backsplash and colorful accents in this mid-century kitchen!
Find more mid-century wood veneer kitchen cabinet design ideas here!
Top Wood Kitchen Cabinet Styles Different Design Styles
Traditional or Transitional Styles
Whether you prefer the ornate details of traditional design, or like something that leans a bit more streamlined, these cabinet styles will provide you a timeless look.
Plain Sawn (regular) Oak
Cherry
Maple
Clear Alder
Explore cabinet door styles for traditional and transitional kitchens here.
Contemporary or Modern Styles
Modern and contemporary kitchens are defined by clean angles, streamlined workflow, and simplicity. The following cabinet materials suit this design style and will shine in an understated, luxurious way.
Stained Plain Sawn Oak
White Rift Oak
Exotic Wood Veneer
Walnut
Explore cabinet door styles for contemporary kitchens here.
Rustic Style
Rustic style is warm, inviting, and cozy. These species will provide that organic and imperfect appeal for those who love nature and all it's variety.
Explore cabinet door styles for rustic kitchens here.
Answering your questions about wood kitchen cabinets
Are wood kitchen cabinets outdated?
Wood cabinets can be brought up to date with modern design. Wood kitchen elements are a design trend that is being implemented in many design styles and we see continuing to be popular moving forward into 2024. Combining wood with other materials and finishes adds warmth and personality to modern spaces. While warm tones are less popular, neutral stain is a big trend right now!
Are wood cabinets making a comeback?
Yes! Especially with the trend for two tone kitchens and mixed materials in design. A wood island paired with painted cabinets for example, or wood base cabinets with white uppers are two instances that we see being implemented today.
Are dark wood cabinets out of style?
New ways of implementing dark cabinets are popular in 2023. For example flat panel cabinets in either a walnut finish or dark stain are trending right now. If you prefer a traditional door front, then a dark stain paired with white is a trending combination that feels classic yet updated. Black is a bold and trendy choice that is versatile: leaning farmhouse or contemporary depending on application and finishes.
How much do wood kitchen cabinets cost?
The price of wood cabinets depends on a variety of factors:
Species
Door Style
Drawer Upgrades
Cabinet Finishes
Custom Elements
Wood cabinets are a long lasting kitchen storage solution and a worthwhile investment to make sure you love your dream kitchen for years to come.
What is the best kitchen cabinet wood?
This is up to personal preference. What grain pattern do you like? How rough are you with your cabinets? Do you want them to be stained, painted, or clear coated? Each wood species we offer is suited to fit different kitchen needs and desires. Your designer will walk you through the best choice for your situation.
How long do wood cabinets last?
Wood cabinet longevity is highly dependent on care and environmental factors. We recommend a humidity and temperature controlled environment to keep your cabinets looking like new. If you care for your cabinets well then there really isn't an expiry date on them as long as you still enjoy the style!
Where to buy solid wood cabinets?
Decor Cabinets has a dealer locations across the USA and Canada. Click here to find a Decor Cabinets dealer near you!
Can wood cabinets be refinished?
We do not recommend refinishing Decor Cabinets. Our manufacturing process involves a multi-step high-quality finish that really can't be replicated at home. In order to refinish the cabinets, you would need to break the top coat by sanding down the entire cabinet front.
Can wood cabinets be painted?
Yes wood cabinets can be painted. We have a multi-step finishing process that provides a smooth, durable finish for painted doors. Decor Cabinets offers a range of standard paint colours and if you can't find what you are looking for in the standard collection, custom colours can be created for you.
How to take care of your solid wood cabinets
For regular cleaning of all door and cabinet exterior and interior surfaces:
Always wipe in the direction of the grain.
Wipe with a damp soft cloth, then dry with another soft cloth or absorbent paper towel.
Never use detergents, strong soaps, abrasives, coloured microfiber cloths, cleaning agents with strong chemical substances or waxes. They can damage the finish or leave a residue that airborne grease will stick to. Always test cleaning products on a small inconspicuous area.
Do not allow water or other liquids to be in contact with outside or inside surfaces for prolonged periods of time.
Excessive scrubbing or rubbing in one location will cause the finish to be polished creating a shinier surface in that one place.
Wipe fingerprints frequently as natural skin oils will break down the cabinet finish over time. Make sure to consistently use the handles/pulls for opening.
For thorough cleaning of your cabinets:
Use a non-wax based cleaner that is designed specifically for wood cabinets and woodwork; or use mild soap mixed with water, rinse well and then dry with a soft cloth.
For painted doors and surfaces, use a cleaner that is designed for painted wood cabinets and woodwork, mild soap and water or a diluted vinegar and water solution (rinse well and dry afterward).
Next Steps for Your Ideal Kitchen Cabinetry
Wood cabinets are a timeless and versatile choice for any functional kitchen. Throughout this ultimate guide, we've explored the various species of wood cabinets, design ideas for your style, faq's, and care tips. If you are remodeling your kitchen and want to receive great customer service and quality cabinets, look no further. Find a Decor Cabinets designer near you.