Many people immediately think of old and outdated kitchens when they hear oak cabinets. Honey-coloured, arched door styles are a design that doesn't mesh with today's modern kitchens.
But it doesn't have to be that way. A kitchen with oak cabinets has much more to offer than that! If they're designed right, then oak cabinets can look modern and current.
Be it traditional, or modern, oak cabinets can provide the versatility needed to fit into any kitchen design.
In this article, we'll be covering a little about modern kitchen design and some design ideas to refresh and modernize your kitchen.
Let's get started!
What is Modern Kitchen Design?
Modern kitchen design is often broadly categorized as any style that's less traditional and more contemporary — And it typically consists of open spaces, minimalist features, and simple colour palettes, offering a clutter-free space to relax and entertain.
The overly simplified version of modern kitchen design is that it's loosely categorized as something between transitional and contemporary. Now, there's a lot more to it than that…
Modern kitchen design is driven by simplicity. It helps the overall feel of the kitchen by maximizing functionality by utilizing space and organized cabinetry.
They focus more on structure and form instead of surface ornamentation. This helps emphasize their smooth surfaces like concrete and steel, strong horizontal lines, and plenty of open space.
Here are some common elements to look for:
Clean-lined faucets

Sleek hardware

Horizontal lines

Neutral, limited colour palette

Sometimes floor to ceiling windows

natural materials mixed with manufactured ones
Modern kitchens also tend to stay away from clutter, excess ornamentation, and heavy, traditional furnishings. And unlike contemporary kitchens, they stay away from experimental shapes and trends and stick with the tried and true.
So, here are some things you definitely won't find in their design:
Cluttered surfaces

Elaborate edge treatments on countertops

Heavy, traditional furnishings

Highly decorated millwork

Trendy shapes, finishes and colour palettes

Colourful tiles
Modern kitchens focus on the architecture and structure of key elements, meaning the colour palette tends to contain crisp, clean white, black, and subtle neutrals.
Now that we've covered what a modern kitchen is and its features, let's get into some ideas to help modernize your kitchen.
1. Refresh Oak Cabinetry With a Stained Finish
The easiest way to get rid of the honey colouring is to give your oak cabinets a stained finish. Staining them adds a beautiful charm to your cabinets while still allowing the natural wood grain to pop.
A darker stain on your oak cabinets is a great way to move away from the light honey colour and add a more luxurious look and feel.
Stained oak grain is usually already shiny, but you can add a sheen if you want to make the cabinets even shinier than they already are. Otherwise, opting for a matte finish will help mute and modernize your cabinets just as well. 
The style of doors also matters when choosing a kitchen style because they're the face of a kitchen. Let's get into which door styles are the best for modern oak cabinets.
2. Go With Flat, Slab Door Styles for Modern Oak Cabinets
The reputation of oak cabinets is known as an old-fashioned cabinet material as well as the door styles that were often associated with them.
Heavy-duty arched doors with heaps of embellishments were often used with the oak cabinetry of decades past. 
An easy solution to that is to go for a simple and subtle door style. If you're on a budget, simply switching cabinet doors instead of all the kitchen cabinets will make a huge difference.
Slab doors will smooth out the whole look of your oak cabinetry and bring out the simplistic, straight-line features of a modern kitchen.
That said, the next idea will help modernize oak wood cabinetry further, so let's jump right in.
3. Replace Old for New Hardware
Incorporating modern hardware with your oak cabinets can enhance them and help them take on a more modern appeal.
Modern hardware is typically super simple. Long, oversized pulls are great for modern, flat-panel cabinets. They often extend to the majority length of the drawer and doors and are usually slim and square but never bulky.
4. Switch Out the Appliances
While black and white appliances would work with modern kitchens, stainless steel is the way to go.
They add that modern aesthetic to your kitchen and give it that finishing touch, so if your budget allows, switch out those old white and black appliances for new appliances that are stainless steel.
Now let's talk about the wood grain a little…
5. Play Around With the Wood Grain
When it comes to emphasizing modern elements for oak cabinets, the best way is to Play around with the oak's natural wood grain patterning.
Wood cabinets are mostly presented with a vertical wood grain arrangement. Going outside the box and switching it to a horizontal wood grain for your oak cabinet door utilizes one of the key concepts of modern kitchen design, which is the use of horizontal lines.
Positioning oak to have horizontal lines helps emphasize the horizontal goal of a modern kitchen design.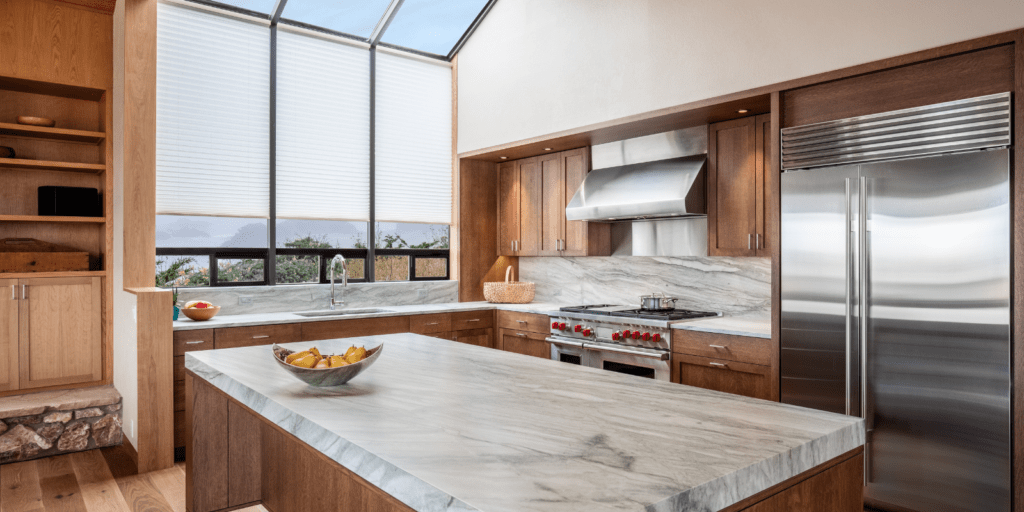 6. Use Surrounding Pieces to Highlight the Oak Cabinets
There's so much more to a modern kitchen than just your cabinet selection. The elements surrounding oak cabinets play a big part in making them appear modern.
The countertop is a prime example. It has a huge influence on how your cabinets are presented.
With a modern design, you want to keep it simple and pair oak cabinets with basic white or dark countertops. Another option is to install waterfall countertops.
It's the best way to feature oak cabinets with modern finesse and create a great focal point.
Stick with a subtle, not-too-busy countertop pattern to not take away from the oak grain.
Another great modern touch is to utilize floating shelves. Open shelving adds so much more natural wood texture to the overall kitchen's appearance, which complements the beautiful stone countertop.
Also, Sometimes it's what you don't include that has the biggest impact on the modern kitchen style.
The best way for the "less is more" motto to shine through in a modern kitchen is to cut down on decorative ornamentation and by staying away from busy trim and crown mouldings.
It's best to just use flat trim or panels to add to the simplicity of the design and keep everyone's eyes on the oak cabinets instead of the decorative mouldings.
Last, but not least, let's talk about repainting the kitchen cabinets…
7. Repaint the Oak Kitchen Cabinets
Painting cabinets is one of the best ways to update and modernize them when they look distressed and aged, and for a couple of good reasons.
One of those reasons is that it's good for resale. The traditional honey colour oak cabinets mostly only attract those that are 70 years of age or older. So if you're looking to appeal to a younger audience then you'll want to consider painting them. It adds so much more personality and finesse to them, it just makes sense.
Another great idea for painted oak cabinets is to have the upper cabinets painted white.
Whether you're painting your existing cabinets or if you're getting your new kitchen cabinets painted from the beginning, it's a great way to contrast the white cabinets with the rest being a dark kitchen or vice versa.
white painted cabinets will reflect natural light quite well, making the room feel larger than it actually is.
Check out this blog post that gives tips for painting oak cabinets
Final Thoughts
As we know, oak cabinet kitchens are nothing new. Many people think that oak kitchens are old and outdated. And yes, they've been popular since long ago because they're a heavy-duty durable material and because oftheir timeless appeal.
But they're long from outdated. In more recent years, more modern and contemporary designs have popped up all over the world with new ways to use oak cabinets.
We hope that this article has sparked your creativity in renewing your old, drab, and outdated oak kitchen.
If, however, you're still stuck and don't know where to start, head over to our 'find a dealer' page and get in touch with a dealer near you to help you out with that dream kitchen design of yours!