An industrial kitchen is all about its exposed elements, open spaces, and deceivingly simple décor. They use different materials layered together to create a kitchen space that values form and functionality.
Even though they have a stripped-back appearance, industrial kitchens are places to socialize and bring understated designs together.
If you're planning a remodel, there are many ways to get the industrial design to shine in your space.
This guide will explore ideas and design aspects of creating an industrial-looking kitchen to help you get your creativity running, so keep on reading.
Choose The Right Materials For an Industrial Style Kitchen
Materials and texture are the most critical design features for an industrial look.
The materials you use will be the spotlight of the space, becoming the show stopper every time you enter the room. An Industrial-style kitchen typically includes a range of synthetic and natural materials.
There's more than enough room to run your creativity too. Mixing some traditional or modern elements will only complement the space.
Here are some materials to potentially include in the design:
Exposed stone or brick walls

Shiny chrome or polished copper

Metals with a patina, like brushed brass or steel

Synthetic materials like composite, concrete, or laminate

Glass

Ceramic tiles
To effectively design an industrial kitchen, use a mixture of materials. What you choose to go with depends on your taste and lifestyle requirements. If you feel stuck, feel free to reach out to one of Décor's dealers and they'll gladly help you with your design.
Next, we'll look at choosing a layout for an industrial kitchen…
Deciding on a Kitchen Layout
Creating a sense of flow and openness is key in industrial kitchen design. They work particularly well in large spaces with high ceilings and wooden beams, some even have exposed pipes. And the industrial feel for people that love and prefer open-plan living. Even so, it'll still be essential to break up the open area into sections to invite comfort and coziness.
Consider adding a breakfast nook or an island to the layout combined with a separate dining table for formal dining.
Achieving a successful industrial kitchen design in a compact, small area is also possible. Installing a one-wall kitchen is one way to overcome tighter spaces. Just remember to carefully choose the materials and design elements that influence how big or small the space feels to prevent a cluttered feel.
You might need to get a little creative if you want the design layout to include elements like an island or breakfast nook in a tight space.
Now that you've given the layout some thought, let's talk about colours…
Choosing a Colour Palette for Your Industrial Kitchen
It's important to choose the right colour palette to effectively create an industrial-style look.
They often make use of dark tones and deep shades to re-create the feeling of being in the industrial age, some to a stronger degree while others have more modern or contemporary styles mixed in.
It's also easier to see dirt and grime in darker colours, check out this ultimate cleaning guide and keep them free of all the dirt, dust and grime that settles and sticks to them.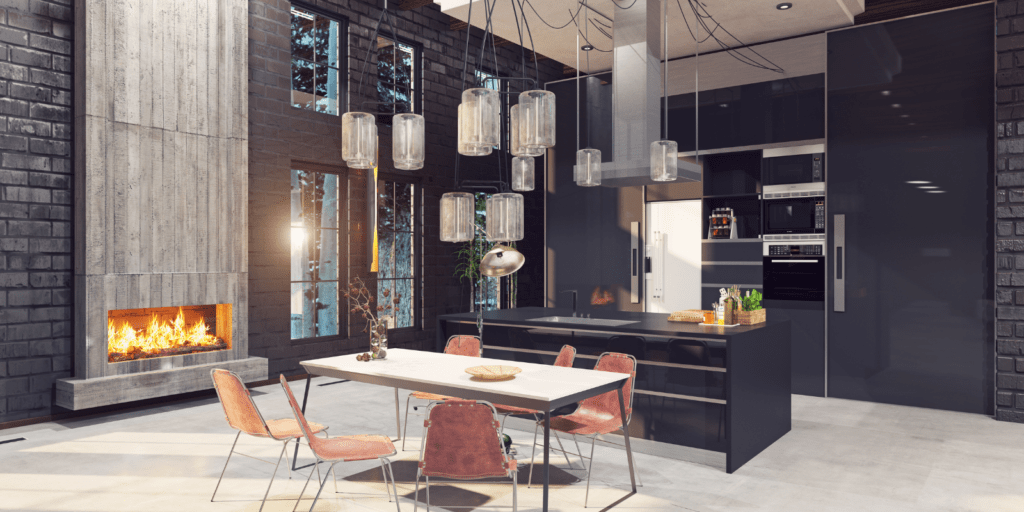 There are many great colour combinations out there but here are 4 for you to consider:
1. Charcoal Shades
Charcoal is super common in the industrial style. Layer grays to create texture and depth and to bring light and contrast in with bright whites.
2. Dark Greens & Blues
Dark greens and blues are on-trend and work well in urban spaces. Consider going for warm-toned metallics with dark green or blue to create contrast and add a warm and homey feel.
3. Soft Neutrals
Too many dark shades can make a space feel claustrophobic, so try introducing shades from a soft, neutral palette like beige, light brown, silver or ash.
4. Bold Accents
The thing that makes industrial kitchen designs exciting is the bold accents. Contrast the monochrome with bright and bold accents, using vibrant colours as the primary colour.
Experiment with your colour palette to find the perfect style that works for you. Be mindful of your choice of materials, as they'll heavily play into the impact the design makes and how your hues work together.
Now let's look at the elements to think about when designing an industrial-style kitchen.
Elements to Consider for an Industrial Style Kitchens
One of the most well-known aspects of industrial design that you'll notice quickly is the darker hues and often an exposed brick wall as an accent wall.
Let's go deeper into the subject and discuss the elements of an industrial kitchen…
Industrial Kitchen Cabinets
Kitchen cabinets take up huge amounts of space, but they're the key storage factor in the kitchen so getting their design right the first time is essential.
One of the greatest benefits of industrial kitchen design is that you can let your creativity flow in regard to cabinet choices.
Classic shaker cabinets work well in industrial kitchens. If you like the modern and contemporary styles mixed in, you could choose to go with handleless slab-style cabinets with a high-gloss finish. Also, concrete walls go quite well with the modern kitchen and industrial style mixed, so consider the option.
If you choose to go with a design that uses handles, then don't skip the next section.
Cabinet Handles for an Industrial Kitchen
Even though handles are only one tiny detail in the kitchen, they can add some serious flair.
Imagine the final look you want to achieve when planning the design and selecting your handles accordingly.
Sleek options work well with modern and contemporary styles if you don't want to go handleless, but decorative handles work just as fine.
Your choice will depend more on what era you want your industrial kitchen to appeal to.
Now, let's see what countertops go great with the industrial design style.
Countertops for an Industrial Kitchen
Stainless steel or concrete countertops are a popular choice for contemporary kitchen designs, as well as natural wood like live-edge countertops or the famous butcher block countertop.
Sometimes a kitchen island will have different countertops than the rest of the kitchen to add more flair. For example, the main base cabinets could have stainless steel counters but the kitchen island could have a butcher block worktop installed.
The countertop choice will heavily depend on the cabinet colours and finishes you choose.
Now, let's go over the kitchen sink…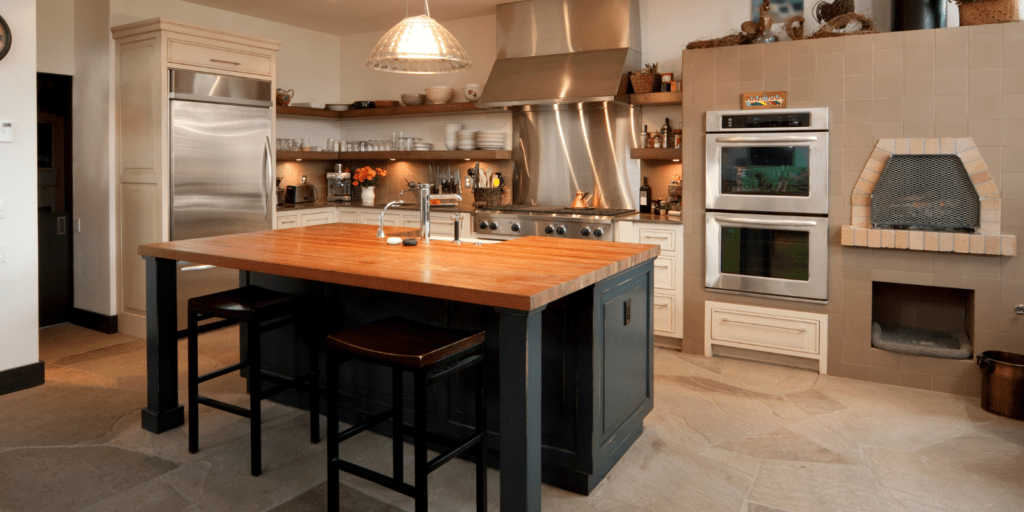 Sinks for Industrial Style Kitchens
Industrial kitchens merge form and functionality effortlessly. That's why it's a good idea to choose a sink that meets your lifestyle requirements and makes a statement in your kitchen.
Stainless steel is an excellent and common choice, and for good reason, especially if you choose to play with different grays in your design. Getting creative with copper is another great option.
Accessorizing your chosen kitchen sink with a kitchen tap that pops just adds so much style and character to the kitchen.
Next, we'll go over appliance choices.
Stainless Steel Appliances for an Industrial Kitchen
An oven range works well in an industrial kitchen. And stainless steel, wood, bricks and stones in general are home to the industrial kitchen. So, when it comes to appliances, stainless steel is the best choice and that's because it looks somewhat clunky which fits perfectly with the industrial design.
If you lean more toward the modern style that features sleek, clean lines but still want to keep the industrial elements in your design then go with the built-in options.
Now let's talk about some smaller accessories.
Smaller Accessories and Industrial Kitchen Décor
Thinking about the little details is just as important as the more significant design elements – Storage, small appliances, and glassware all make an impact on the overall aesthetic of the industrial kitchen design and décor.
Try choosing industrial-style kitchen accessories to elevate the overall industrial theme and organization of the kitchen. For example, wire rack storage, hanging bars for utensils and pans, metal containers for sugar or flour and chunky wood chopping boards all enhance your design.
But it won't shine as much as it should without proper lighting, let's go over that quickly.
Industrial Lighting
Many rustic elements are at play in an industrial kitchen and choosing the right lighting for your industrial kitchen can be a super exciting time.
Make sure to plan in lots of natural light. And even though that's not always possible, you still want those raw elements in the spotlight, so adding lighting will help with that.
Look for oversized lanterns, industrial filament bulb lighting and huge pendant lighting all work well in an industrial kitchen.
The key to the right light fixtures is to look for materials with a bit of a natural patina like copper or reclaimed wood. And to push the ambiance to the limit, include a dimmer switch.
Now, what about the backsplash? Keep reading to find out…
Backsplash to Enhance the Exposed Brick Walls
There are many backsplash options that go well in an industrial kitchen, but not everything will look great…
Stainless steel panels are common and look amazing, but if you want more colour you could choose to go with glass or ceramic tiles. Another great option is to use exposed brickwork or a roughly-hewed stone.
Next, let's talk about flooring options.
Concrete Floors for More Industrial Flair
The kitchen is the most used room in the entire home so the flooring needs to be a durable and long-lasting choice. Make sure to retain functionality while still thinking about how to enhance the overall aesthetics.
An exposed concrete floor is a common choice for an urban feel. Although engineered wood, tiles and laminate can work as well but might not last as long. Keep in mind to prioritize water resistance and durability for the kitchen flooring choice.
Now, finally, we'll discuss the kitchen island.
Kitchen Islands for the Industrial Kitchen Style
Lastly, an industrial kitchen isn't complete without a kitchen island. It can act as a great focal point as well as add extra surface area to work on. It also adds more space for storage and can be a great seating area.
When choosing a design for an island to put in your industrial kitchen, make sure to pick materials that are made to last.
Final Thoughts
An industrial kitchen has quite a few distinct design qualities, whether you prefer a cozy and warm scheme or a busy urban feel.
If you're planning a kitchen remodel and the country kitchen is a perfect style that fits your taste, but you don't know where to start, make sure to take a peek at Houzz's industrial kitchen photo gallery for industrial kitchen design ideas. Also, feel free to talk to one of Décor's kitchen dealers about your industrial kitchen design ideas and let them do their magic so you can enjoy the perfect custom design – stress-free.
If you're not planning to remodel your kitchen any time soon, that doesn't mean that you can't do anything about the design. Simply add some vinyl brick to accentuate a wall and buy some industrial kitchen decor accessories that fit right in and add a touch of industrial design to your kitchen.
We hope this short article helped you distinguish the elements that make up the industrial kitchen design and helped you get your creative juices flowing so you can design the best industrial kitchen that fits your taste.