Brown kitchen cabinets are like the old, trusty friend in your kitchen. They've been around forever, and there's a good reason why people still love them today. What makes brown cabinets a go-to choice for so many? Rich brown kitchen cabinets create coziness with a distinct impact. On the other hand, lighter brown shades bring a soft touch of warmth to the home. Brown wood cabinets, with visible grain patterns or knots, add an organic element to designs. Brown kitchen cabinets are a versatile and timeless choice for your kitchen.
Of course, like any timeless trend, there are ways to modernize and keep the trend feeling fresh rather than outdated. That's where our expert design ideas come in. If you are debating brown kitchen cabinets, here are 15 design ideas to help you decide!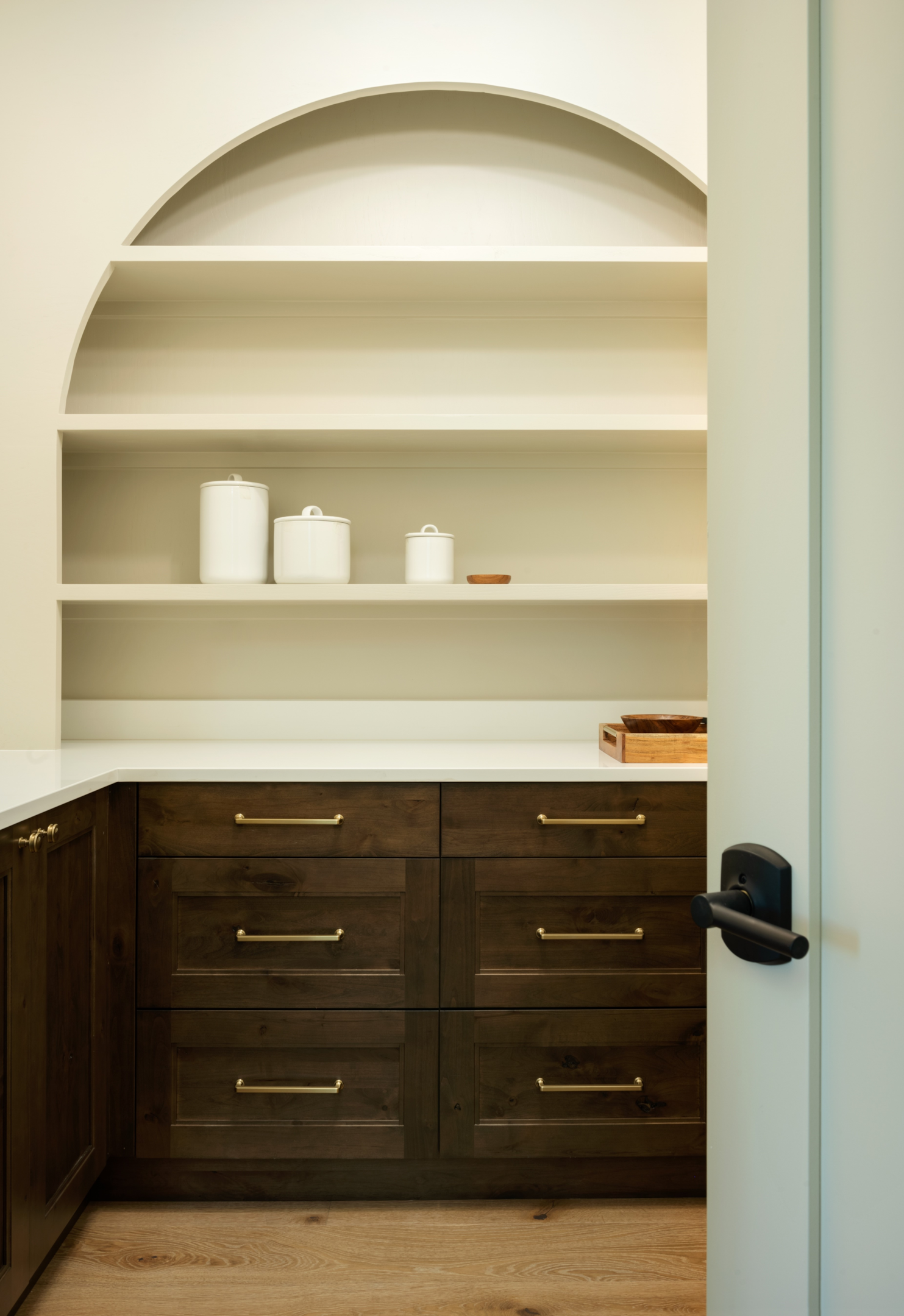 1. Dark Brown Pantry Drawers with Arched Shelving
Traditional dark brown pantry drawers with modern arched shelving is a beautiful modern design – and not at all your typical wire shelf pantry. The arched shelving not only provides a unique visual appeal but also maximizes storage capacity, allowing you to neatly organize all your pantry essentials. Brown cabinet drawers add depth and elegance, with stunning gold hardware.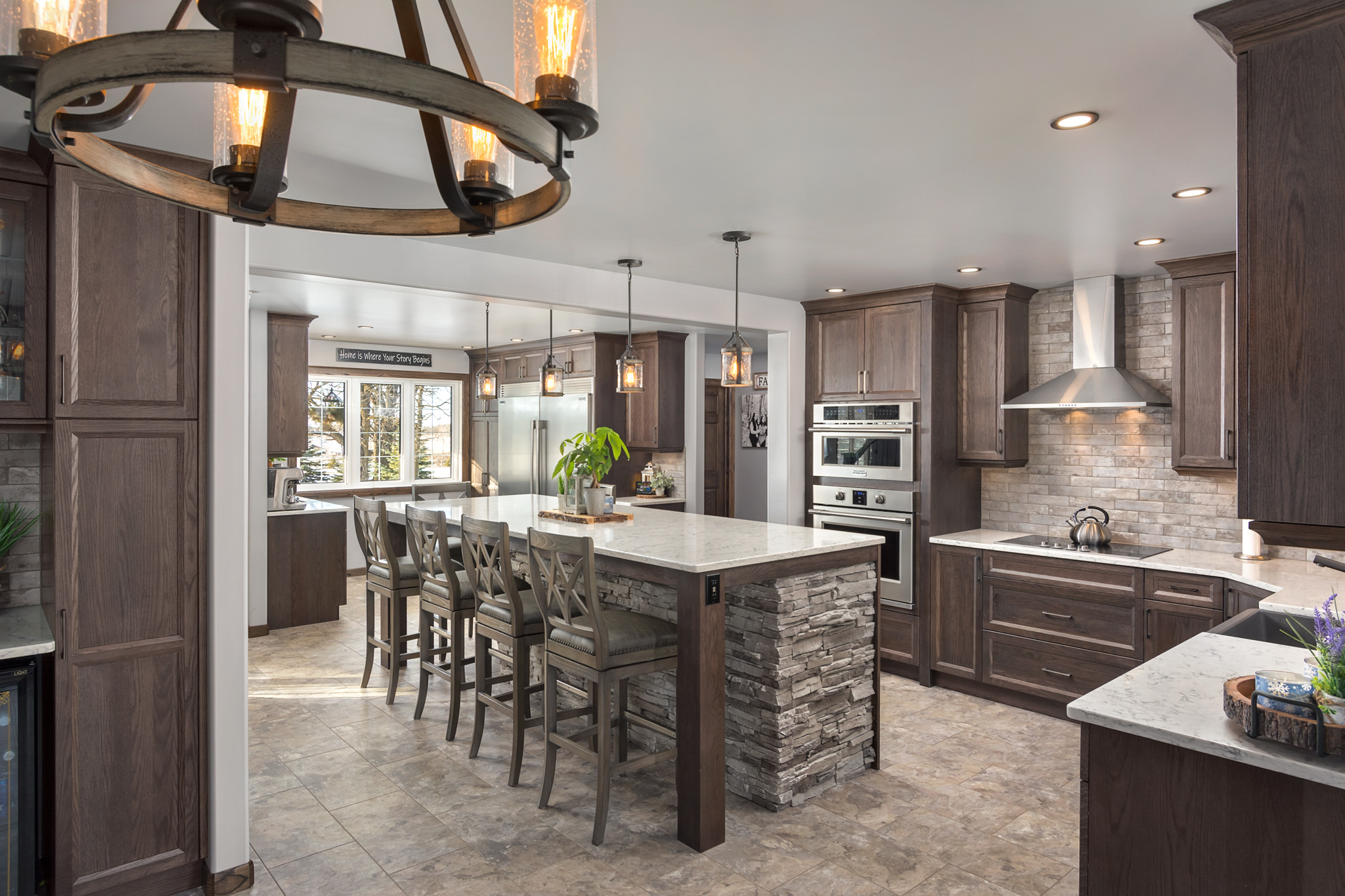 2. Cool Tone Brown Cabinets with Stone Accents
Cool-tone brown cabinets in shades like cool taupe or soft mocha, introduce a calm and contemporary ambiance to your home. Stone accents, such as a sleek marble countertop or a textured stone island, create a seamless blend of natural elements. The cool-toned browns beautifully pair with the stone's cool, earthy hues, resulting in a balanced and visually pleasing kitchen.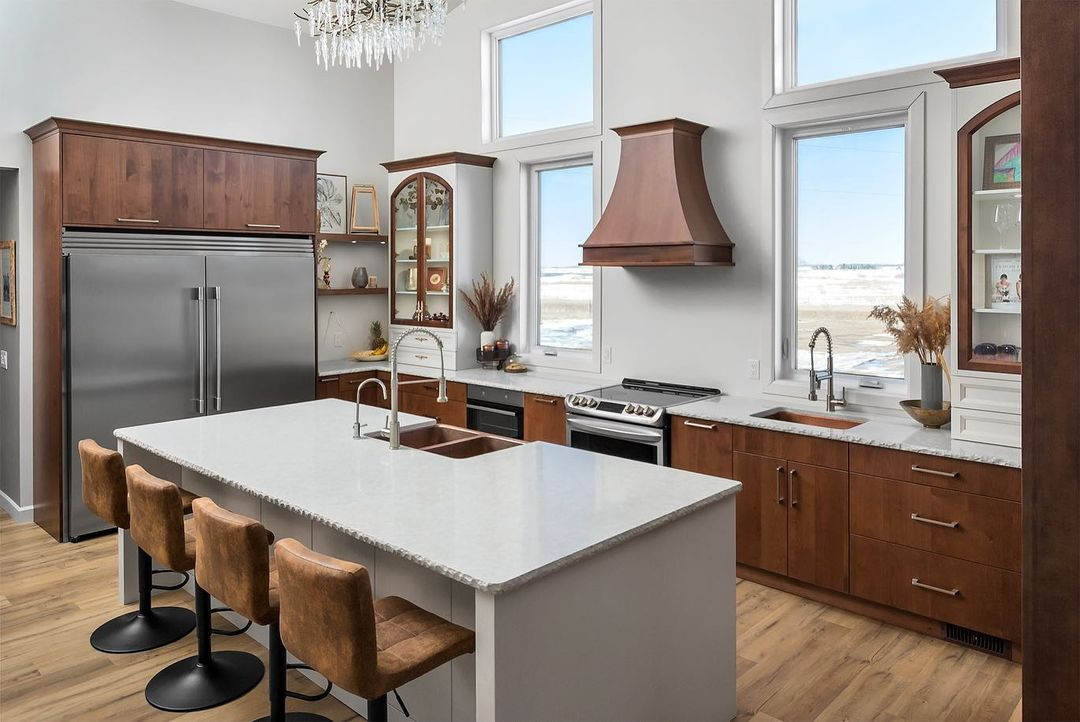 3. Modern Warm Brown Kitchen Cabinets
These cabinets effortlessly blend contemporary design with a touch of timeless comfort. The versatility of warm brown kitchen cabinets really shines through when you pair them with sleek stainless steel appliances for a chic, urban look, or contrast them with light-colored countertops and backsplashes to create a bright, open feeling in your kitchen. The warm brown tones create an inviting atmosphere that's perfect for hosting and well, living life comfortably. With sleek, clean lines and minimalist hardware, modern warm brown cabinets strike the right balance between sophistication and hominess.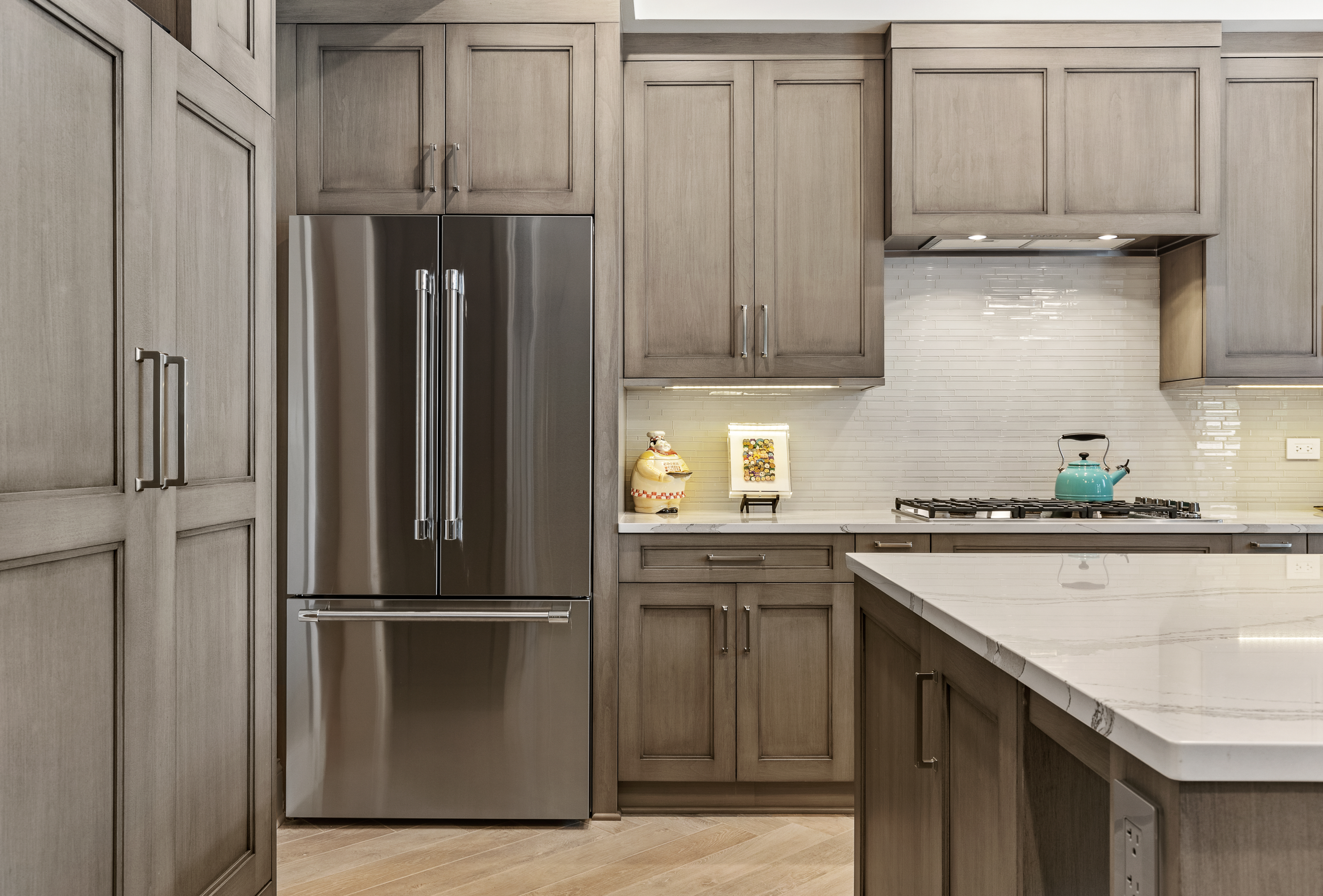 4. Floor to Ceiling Light Brown Kitchen Cabinets
Floor-to-ceiling light brown kitchen cabinets are practical and can be less overwhelming than dark brown cabinets. They provide ample storage but also create a seamless, visually pleasing look in your kitchen. The light brown stain colour brings warmth and a sense of airiness to the space, making it feel inviting and spacious.
To complement these cabinets, you can opt for light-colored countertops and backsplashes to maintain a bright and open atmosphere. Adding texture and mixed material elements can create a striking visual impact, without adding heaviness.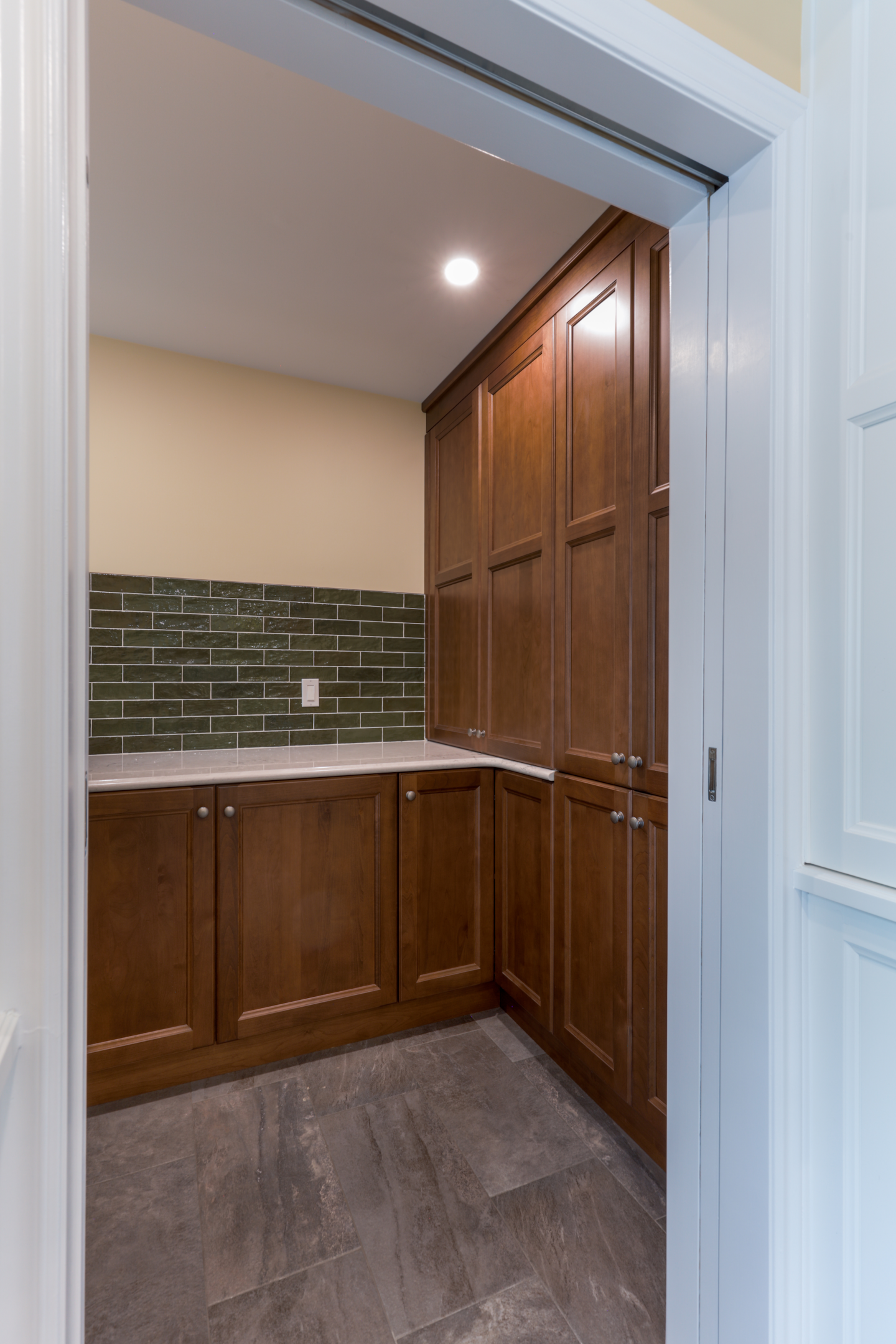 5. Warm Brown Pantry with Green Backsplash
A warm brown pantry and green backsplash is a delightful fusion of earthy comfort and fresh vibrancy, tucked away as a pleasant surprise. The warm brown tones of the pantry exude a sense of coziness and rustic charm, creating a welcoming niche for all your pantry essentials. These warm hues evoke a feeling of home and tradition, making every visit to the pantry a comforting experience.
Now, pair that warm brown with a green backsplash, and you've got a visually striking contrast. The green tile adds a refreshing contemporary burst of color and energy. Together, the warm brown pantry and green backsplash create a harmonious balance between comforting and invigorating.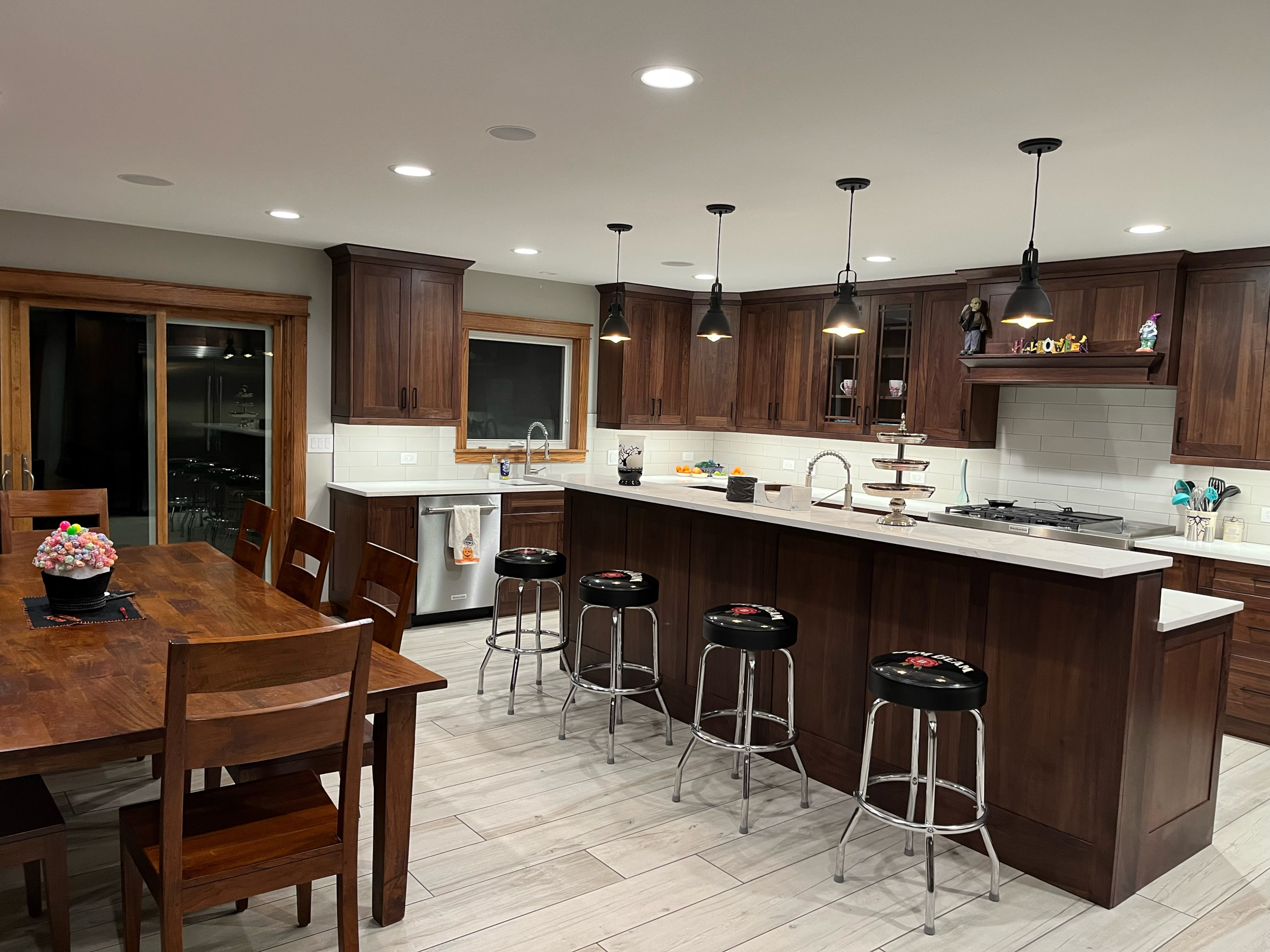 6. Brown Kitchen Cabinets with White Countertops
Dark kitchen cabinets paired with white countertops create a timeless and striking contrast that elevates any kitchen space. The deep, rich tones of the cabinets introduce a sense of warmth and sophistication.
This combination offers incredible versatility in terms of style. You can opt for a traditional look by incorporating classic hardware and vintage-inspired fixtures, or go for a sleek and minimalist vibe with modern accents. Dark brown cabinets with white countertops allow you to play with various design elements, from traditional to transitional to ultra-modern. A popular choice that feels updated and refreshed.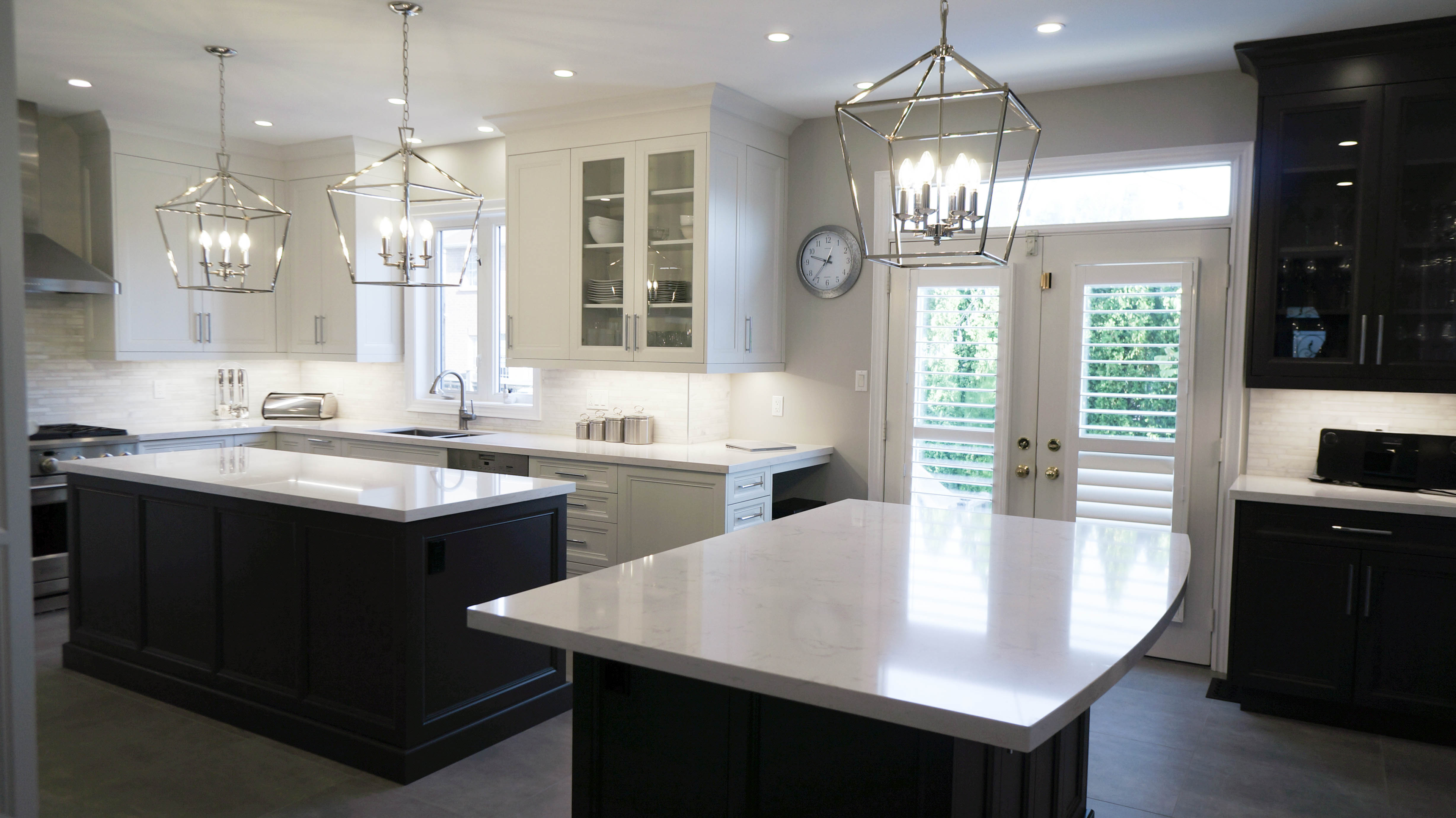 7. Dark Brown Cabinets with Glam Chrome Accents
Dark kitchen cabinets paired with glamorous chrome and sparkly accents create a stunning, glamorous kitchen. These cabinets, with their deep, rich tones, set a luxurious backdrop for crystal chandeliers, mirrored or pearly backsplashes, and metallic chrome hardware.
The contrast between the dark brown cabinets and the glamorous accents creates visual drama. It's a play of light and dark, of cozy elegance and dazzling allure. This combination is perfect for those who appreciate a touch of extravagance in their everyday life.
8. Light Brown Cabinets in an Island
A light brown island is a breath of fresh air and warmth to your kitchen. The light brown tone adds an organic feel to the home (in a more subtle way than going for a full wall of wood cabinets) and is often paired with melamine or painted wood cabinets – something with clean lines and a smooth finish.
The versatility of light brown cabinets allows them to blend seamlessly with various design styles. Whether your kitchen leans towards a rustic farmhouse aesthetic, modern, minimalist vibe, or a transitional in-between, these cabinets adapt with ease. The wood accent island is a great way to tie in wood flooring, floating shelves, or other organic elements into the design.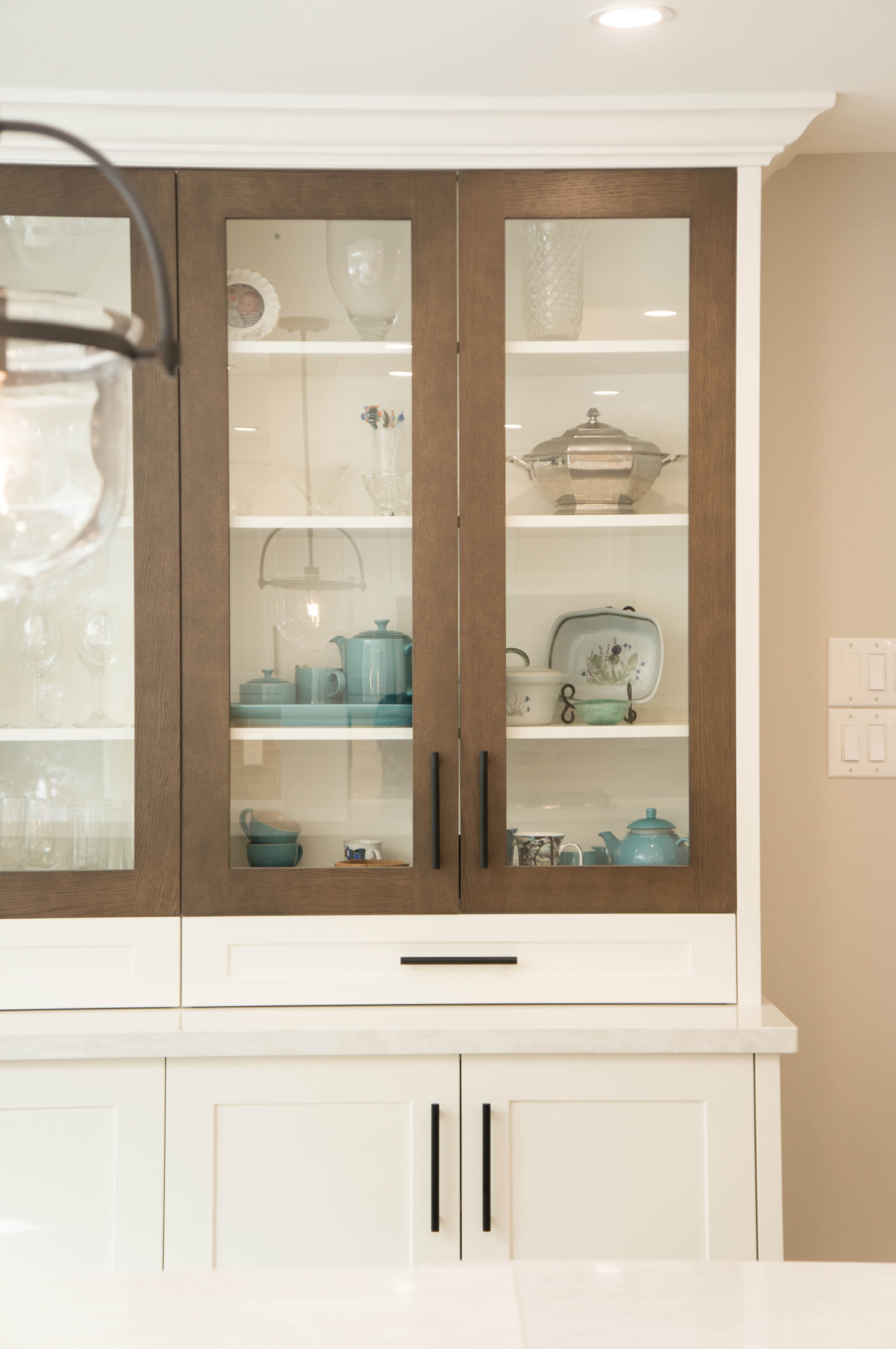 9. Light Brown Doors with White Cabinetry
Light brown cabinet doors paired with white cabinetry beautifully highlights the items displayed within. The cabinet doors, with their gentle and warm tones, introduce a touch of natural elegance to the space. They stand out as a focal point alongside the white cabinetry brightening and opening up the kitchen, making it feel airy and spacious. If you can't decide between wood and white, try doing both!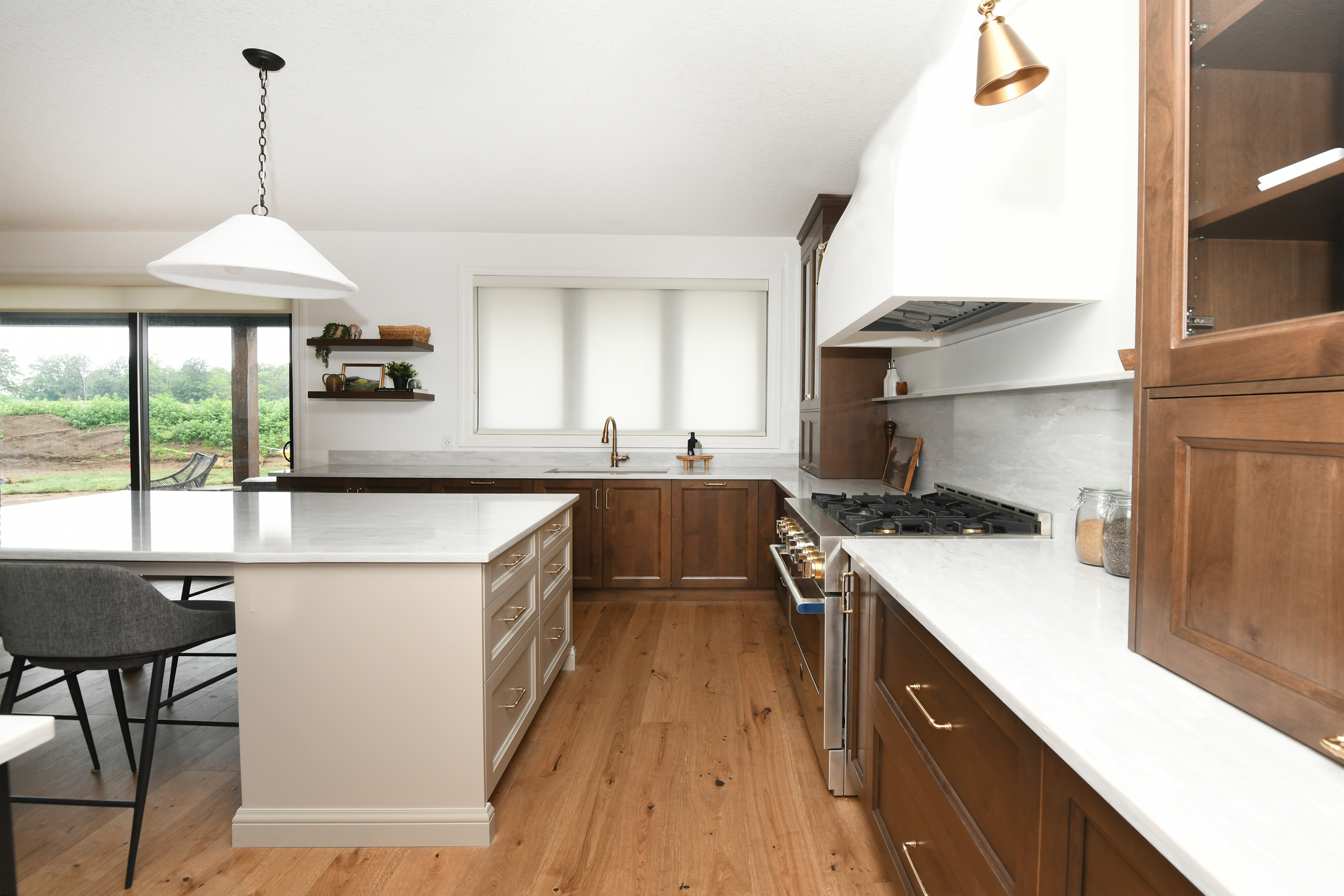 10. Wood Kitchen Cabinets Paired with White & Beige
Mid-tone wood kitchen cabinets are a timeless choice. Brown stained cabinets are inviting, and it's against this backdrop that the white and beige elements provide a fresh, airy contrast. The beige island adds warmth in a fresh, contemporary way. We continue to see warm tones in 2023 and we think this trend will continue into 2024.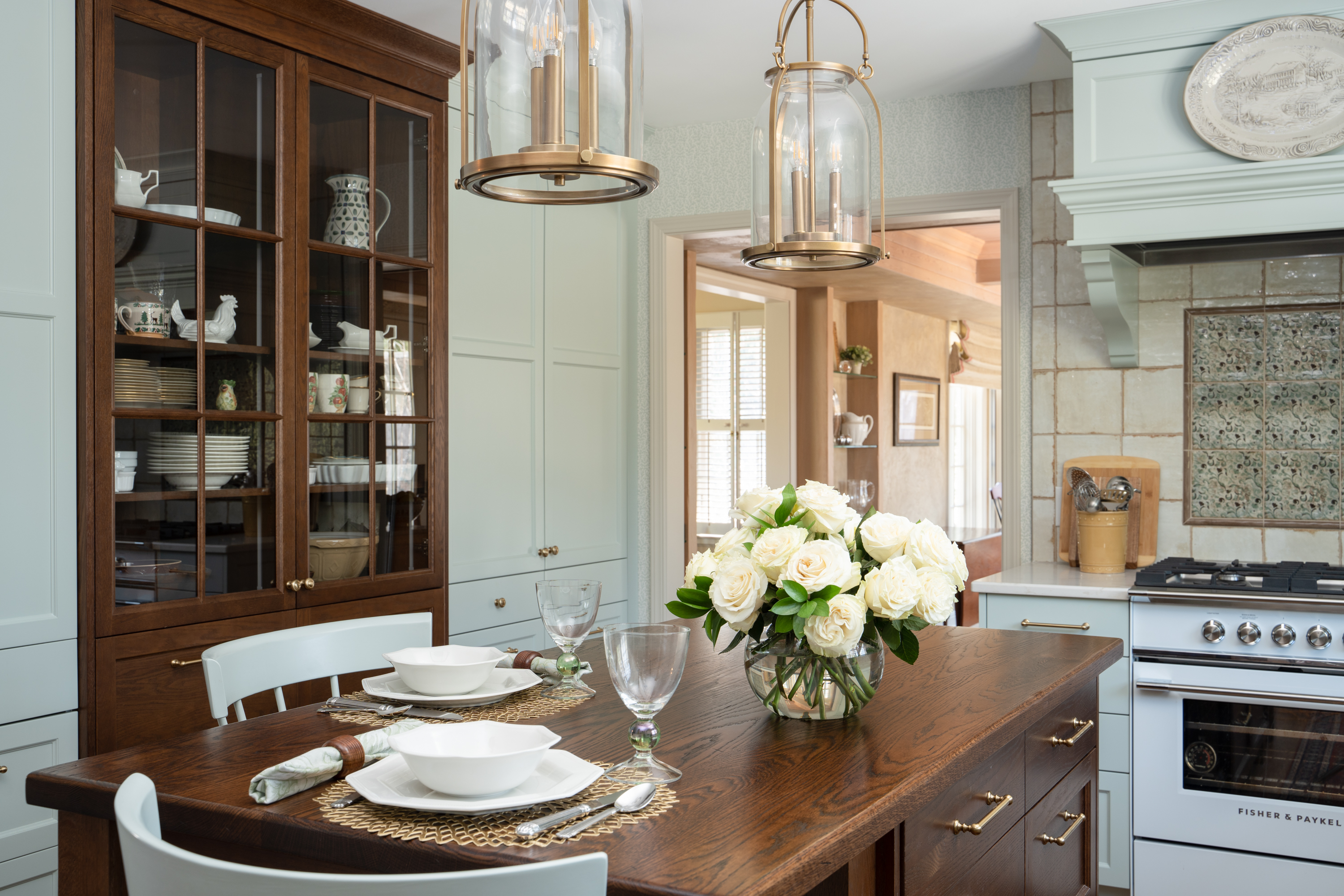 11. Traditional Dark Brown Kitchen China Cabinet
A traditional dark brown china cabinet is the embodiment of timeless elegance and craftsmanship. The warm wood tones are beautifully contrasted by pale blue custom cabinetry. The china cabinet not only serves as a functional storage solution but also stands as a classic design statement in any kitchen. The deep, rich brown finish exudes a sense of warmth and sophistication, creating a focal point that exudes tradition and heritage.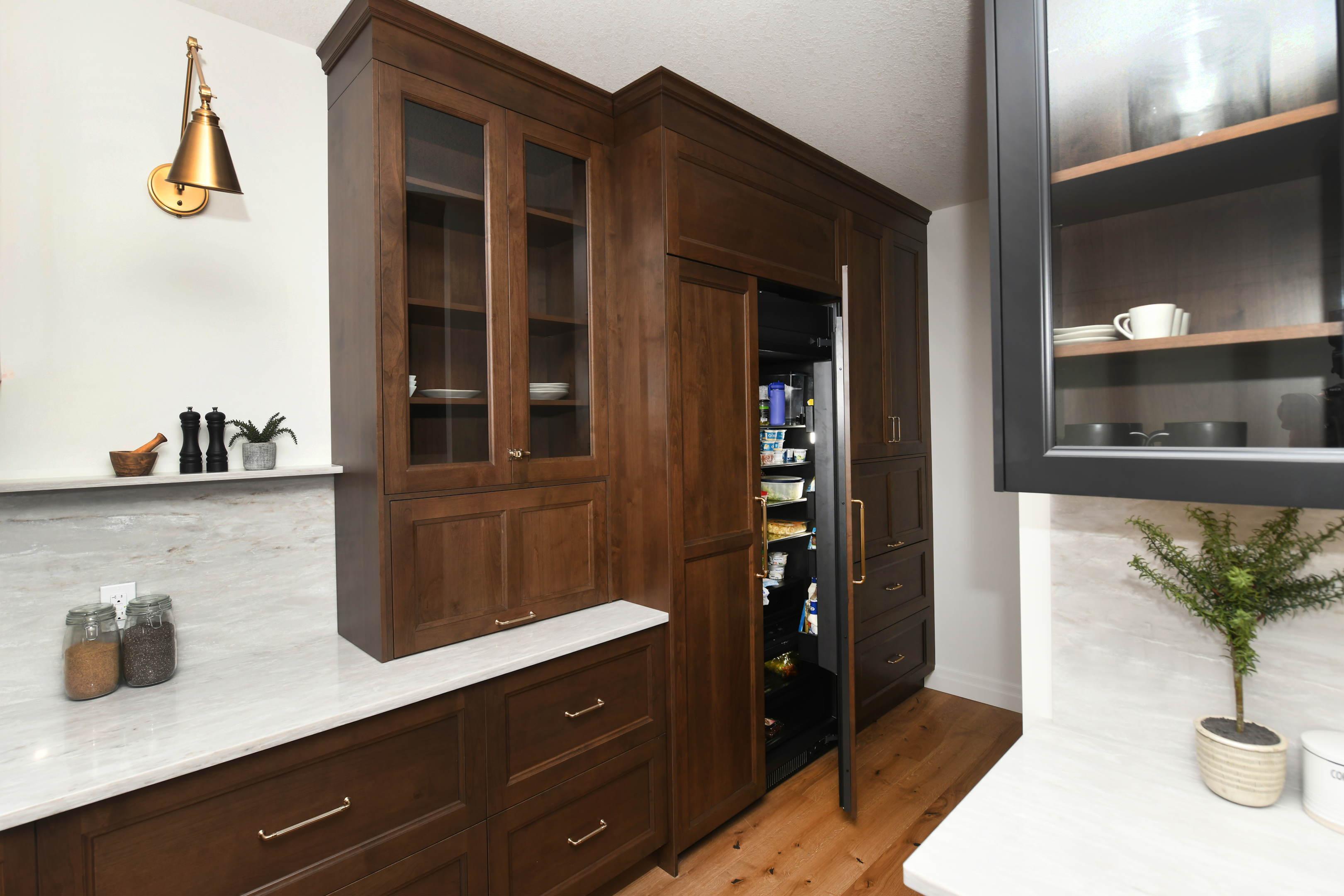 12. Black and Dark Brown Kitchen Cabinets
The combination of these two rich, deep colors creates a statement in your kitchen. The dark brown cabinets bring warmth and a sense of tradition, while the black cabinets introduce a touch of modernity and drama.
This pairing allows for a versatile design palette. You can opt for a contemporary look by emphasizing clean lines and minimalistic hardware, or infuse a classic charm with vintage-inspired fixtures and accessories.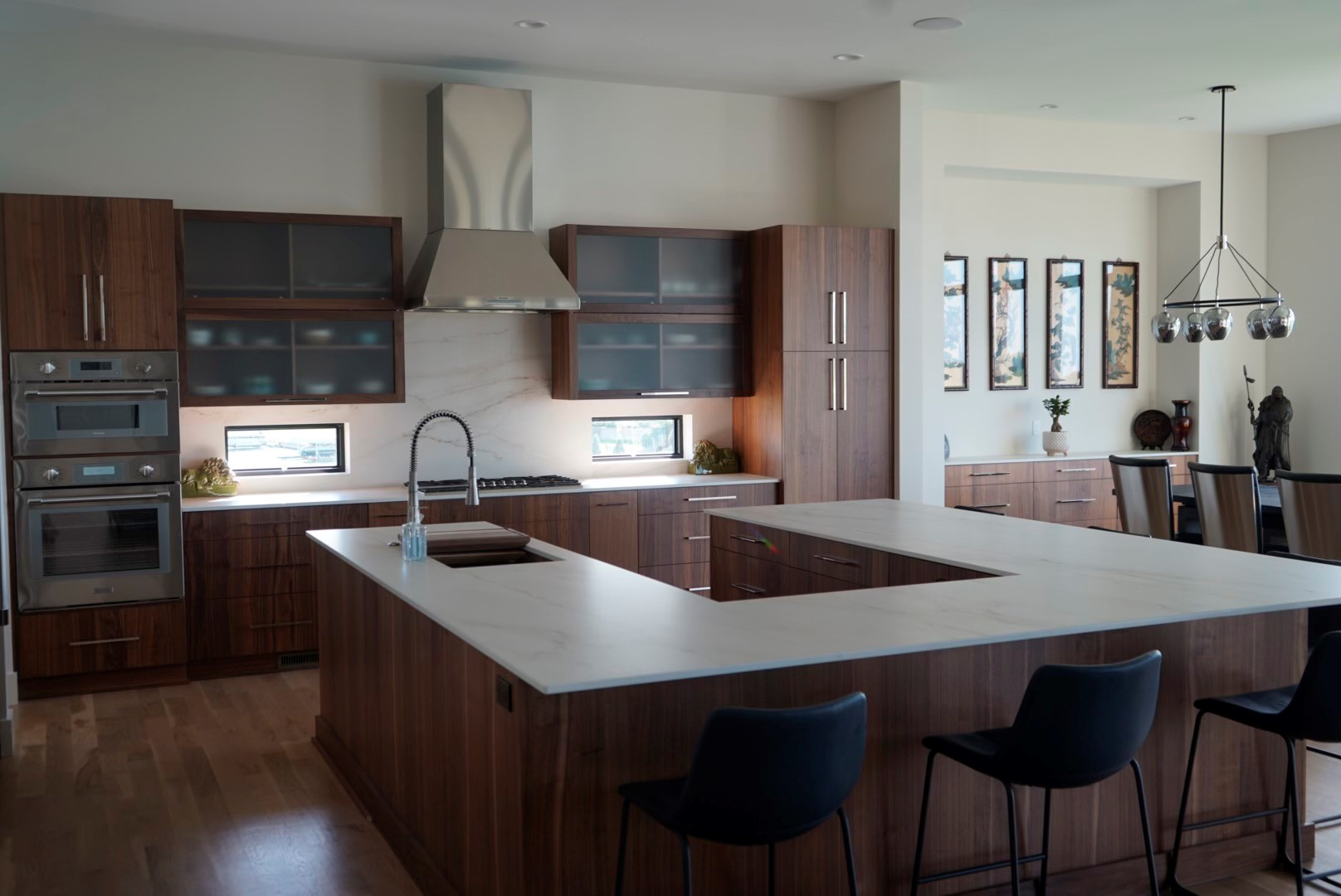 13. Modern Flat Panel Dark Brown Kitchen Cabinets
Modern flat panel dark brown kitchen cabinets epitomize contemporary design. These cabinets boast sleek, clean lines and a minimalist aesthetic that brings a sense of simplicity and elegance to your kitchen. The flat panel design provides a smooth and uncluttered surface, making them easy to clean and maintain, ideal for today's busy lifestyles. Choosing modern flat panel dark brown kitchen cabinets embraces a contemporary aesthetic that values both functionality and style.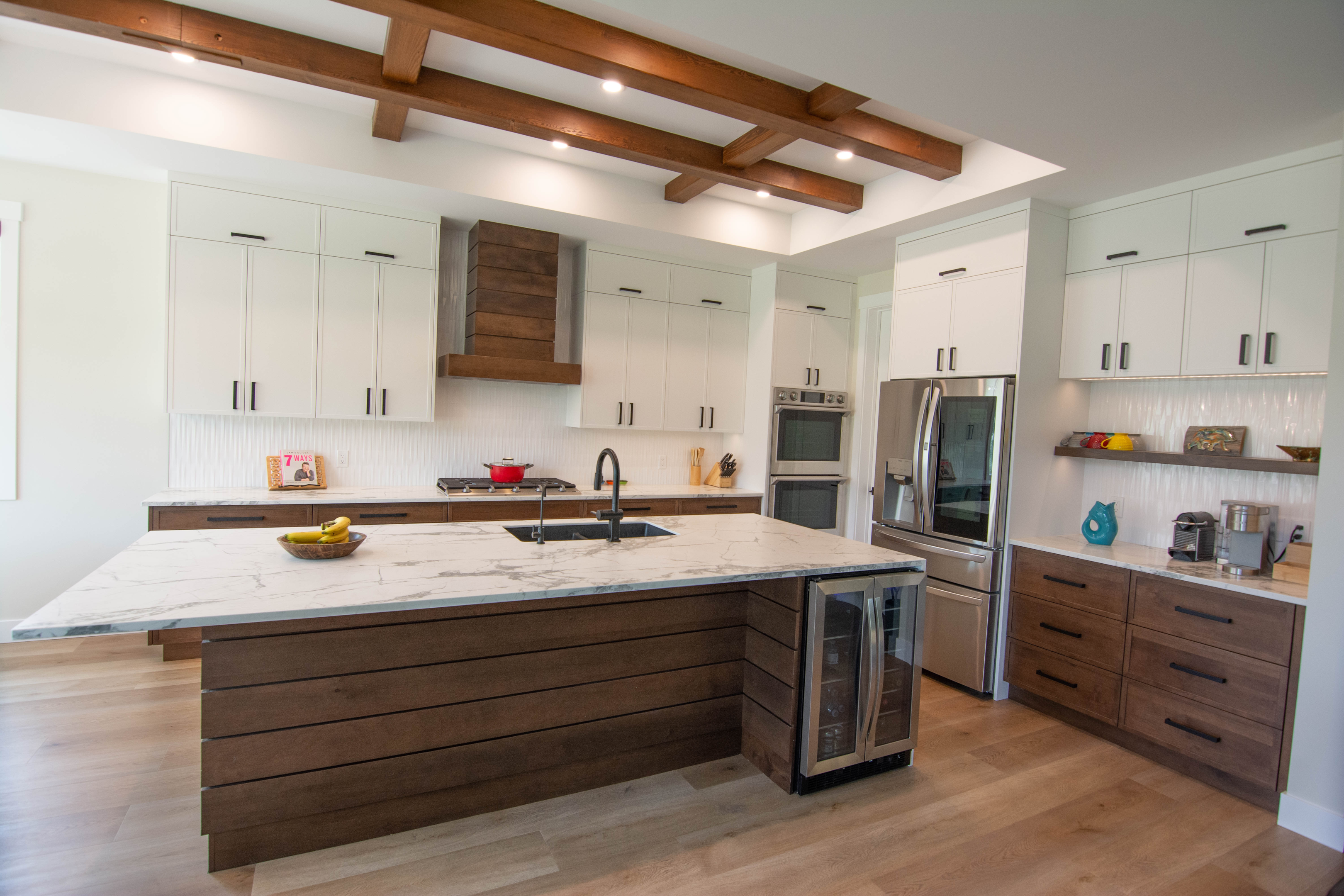 14. Two-Tone White and Brown Kitchen Cabinets
These cabinets create a striking visual statement, while white and wood are considered neutrals, they are opposite in feel. The upper cabinets in pristine white add a sense of brightness, making the kitchen feel open and airy, while the lower brown cabinets ground the space with their rich, earthy tones.
This combination allows for endless design possibilities. Two-tone cabinets offer a unique canvas for creative design, letting you experiment with various textures, materials, and colors to personalize your kitchen to your liking.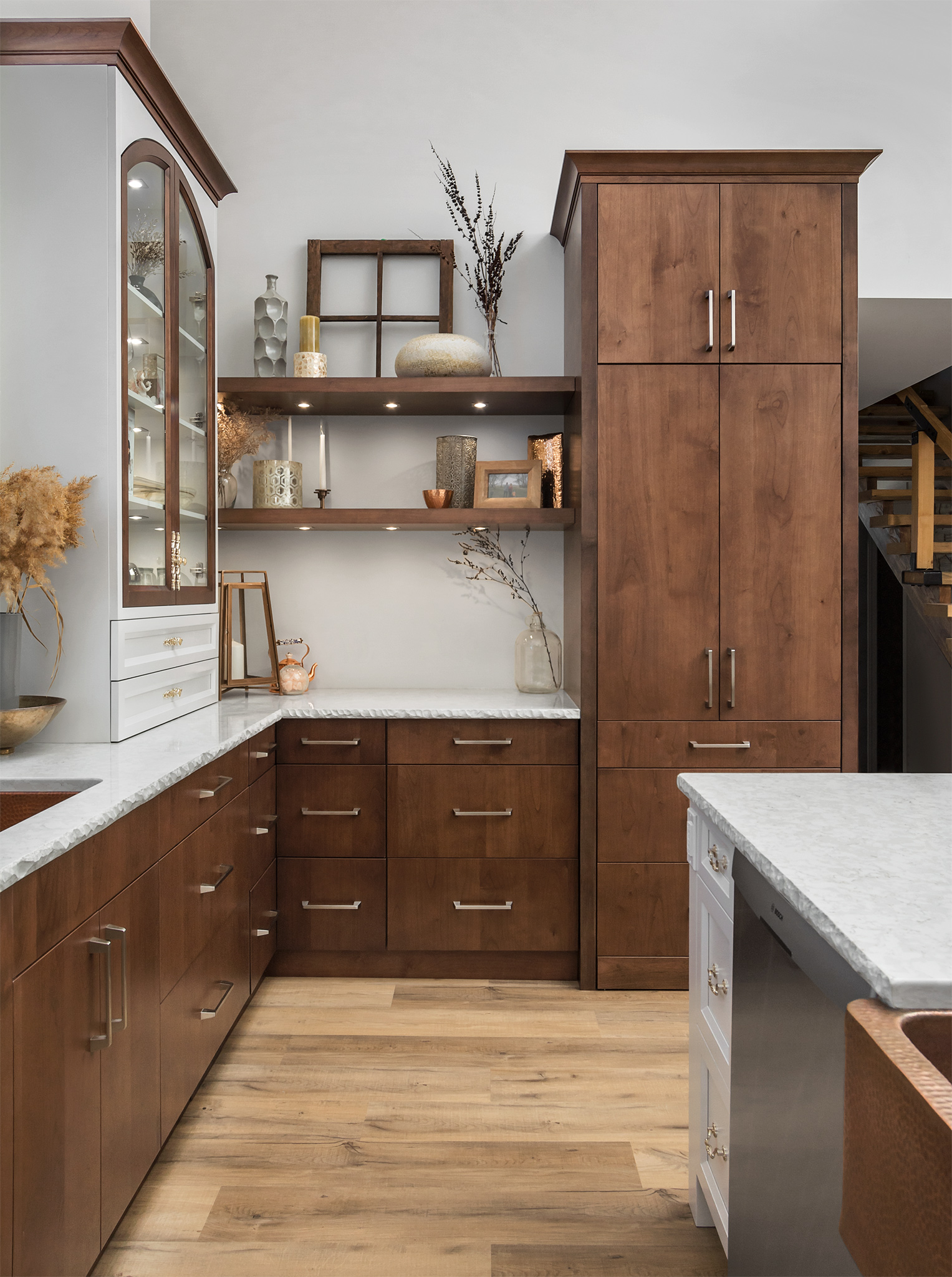 15. Brown Kitchen Cabinets with Floating Shelves
Brown kitchen cabinets from floor to ceiling can feel too heavy for some. Floating shelves open up a space, while still offering some function: allowing you to display your favorite cookware, dishes, or decorative items. It's a play of structure and openness, offering both storage and an opportunity for creative decoration. You can use the shelves to showcase plants, colorful dishes, or culinary essentials, adding a personal touch to your kitchen's decor.
This combination offers a versatile design that suits various styles, from industrial chic to eclectic charm. The floating shelves provide a canvas for your imagination, letting you curate your kitchen's visual story.
Ready for your kitchen remodel?
Ready for your dream kitchen? You can purchase Decor Cabinets from a Design Centre near you. Whether you are looking for a modern kitchen or something more traditional, a Decor designer can give you a functional plan that suits your home.