The U-shaped kitchen has become a popular choice in today's kitchens and makes functionality meet aesthetics perfectly. But planning the layout and design can be quite a challenge. It offers more storage than the L-shape design but can feel a little more enclosed.
When a U-shaped kitchen layout is carefully considered, it also ensures that the working space is a practical area to prepare food. U-shaped kitchens have been through many eras and have been around for a while. So, the U-shape layout has survived the test of time because of the efficiency it offers and its practicality.
The U-shaped kitchen layout has many benefits. It's versatile and maximizes space in such an efficient way that it can adapt to both large and small spaces. The U-shaped layout is amazing because it uses corner storage effectively and efficiently. It helps decrease the flow of traffic between each area, creating a great work triangle.
If you've decided to use a U-shaped kitchen layout in your space, feel free to use one of these U-shaped kitchen ideas. Design something you'll not only fall in love with but stay in love with.
Keep reading to find out what U-shaped kitchen ideas you could implement into your own design.
1. Add More Space to Your U-Shaped Kitchen With White
Having cabinetry that has a horseshoe layout allows you to have more cabinets in your space, providing you with great storage options. Sometimes the U-shaped kitchen design can feel a little tight though. So, adding white to the cabinets makes it feel like a larger space. This is perfect for any small U-shaped kitchen.
If that's not enough, adding countertops with a reflective surface will help reflect light in the room bringing about even more brightness. And if you want to crank the brightness to the max, add a white backsplash.
The whiter, the lighter – especially in smaller spaces. If you have a room with little natural light, use this trick to lighten up that room as well.
That said, let's see how doors can modernize the kitchen.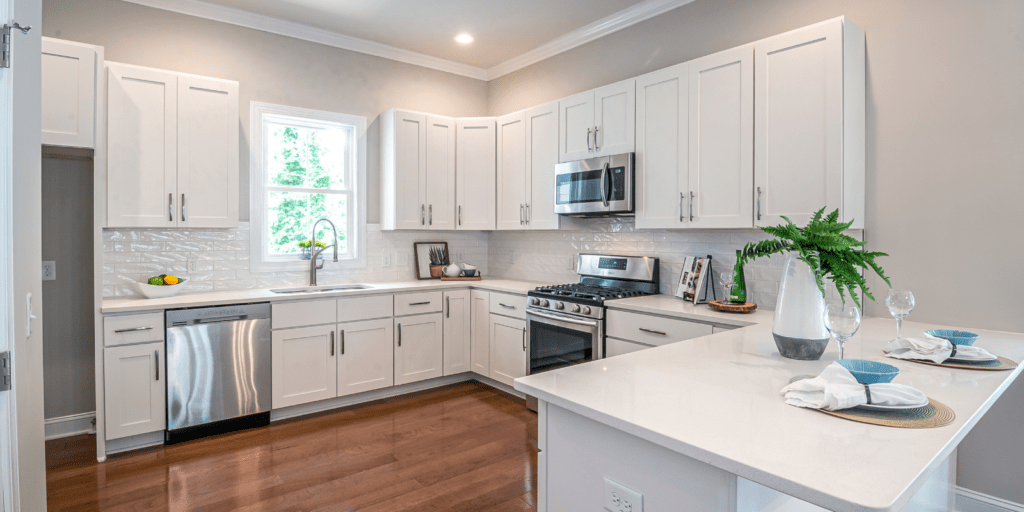 2. Modernize Your U-Shaped Kitchen Layout With Flat, Slab Door Styles
Most modern and contemporary kitchens promote a minimalistic lifestyle. A key feature that helps drive this home is clutter-free countertops and the flat slab door style that they so often have. Use this to your advantage to modernize your U-shaped kitchen by simply switching the doors.
If you're on a budget, try only switching cabinet doors instead of all the kitchen cabinets. It'll be the difference that puts your U-shaped kitchen into the modern and contemporary category. Slab doors will smooth out the whole look of your cabinets and bring out the simplistic, straight-line features of a modern kitchen.
Also, modernize and add a little warmth to the kitchen by using wooden open shelving instead of the regular wall units. This way you can use wall space the same way you would with wall cabinets, but you're saving money on the doors.
Next, let's go over what a beautiful island in your U-shaped kitchen can do for your space.
3. A Kitchen Island Will Add More Workspace To Your Layout
Maximize floor space by adding an island in your U-shaped kitchen for extra counter space. It'll also help you with the efficiency of food preparation and will add more storage space to any U-shaped layout.
You can use the island as a simple workspace or you can install the stovetop or the sink on the island. Make the work triangle in your U-shaped kitchen more efficient by choosing the right location for them.
Now, the work triangle in the kitchen is all about creating a better ergonomic experience. So, if you're spending lots of time in your kitchen, it'll help you keep ergonomic injuries far away.
Next, let's see what countertops are good options for a modern U-shaped kitchen.
4. Choose The Right Countertops For Your U-Shaped Kitchen
It depends on what your aim is with the kitchen. If you're on a budget, you'll most likely be using laminate countertops. But if you're going for a warm homey feel that is close to nature, choose the rustic or country-style kitchen. They'll usually use a butcher block or live-edge countertop.
If your aim is to get a hint of luxury out of your kitchen then choose quartz, granite, or marble countertops.
If you don't know which countertop material to choose then feel free to check out our article. It discusses 20 countertop material options with pros and cons for each to make your choice easier.
Now, quartz countertops have nearly unlimited colours and design patterns available and can even be used to imitate granite or marble countertops. All 3 materials are super durable and long-lasting and are basically maintenance-free due to the non-porous surface. So, simple cleaning is needed for upkeep and nothing more.
If you decide to go with quartz, granite or marble, the countertop space will most likely consist of 3 pieces with visible seams at the corners.
The next idea is going to help you increase that modern/contemporary feel together with a hint of luxury.
5. Go With a High-Gloss Finish in Your U-Shaped Design
High-gloss finishes help with one main thing, and that's to drive the point home that the space is a high-end kitchen. They've become a staple in many contemporary interiors. Some even mix the high-gloss finishes with matte-painted cabinets, and they look absolutely stunning.
Another feature that's great about high-gloss finishes is that they reflect light. This makes the room feel more spacious, similar to the all-white colour scheme but more subtle.
Now, the other way to bring in more light is simply by installing more lights…let's talk about that for a minute.
6. Install Pendant Lighting Above the Kitchen Island
Add pendant lighting right above your kitchen island to focus on a better experience using the workspace and have spotlights shine on the area.
Sure, you don't really need it, but a large U-shaped kitchen can have a cavernous feel to it and may lack natural light. So, hanging pendant lighting right above the island or dining area in the middle of the room can help crank up the ambiance and mood in the kitchen.
It'll make you want to stay in the kitchen even more!
Okay, now that we've talked a little about lighting, let's go through the type of sink that's great for a modern U-shaped kitchen.
7. Modernize Your Layout With an Undermount Sink
An undermount sink is great in modern and contemporary kitchens, it's sleek and looks like it was just meant to be there.
It's defined by the way it's installed. Instead of dropping them into a pre-cut hole in the countertop, undermount sinks are the opposite. they're installed underneath the countertop contributing to the sleek design of the modern and contemporary kitchen.
Because of the way they're installed, there's no rim between them and the countertop. Most undermount sinks are stainless steel. However, they can also come in a variety of materials such as cast iron, solid surface, and even natural stone or copper.
Final Thoughts
U-shaped kitchens are amazing for homeowners that have medium or large-sized kitchen spaces. There is close to no chance of installing an island in a small U-shaped kitchen but might still be able to make use of a peninsula. Though this only applies if you're not using three adjoining walls.
But if you have enough space, incorporate a kitchen island in your U-shaped design to create a focal point and add efficiency and storage to the workspace.
Now, to increase efficiency even more in the kitchen layout, keep the work triangle in mind. The U-shaped kitchen design makes it easy to incorporate as well.
Now, if you don't know what the work triangle is, in short, it refers to the in-kitchen spacing that creates an efficient work experience between elements of any kitchen. Mostly a U-shaped layout will feature some version of the working triangle unless it's a one-wall kitchen.